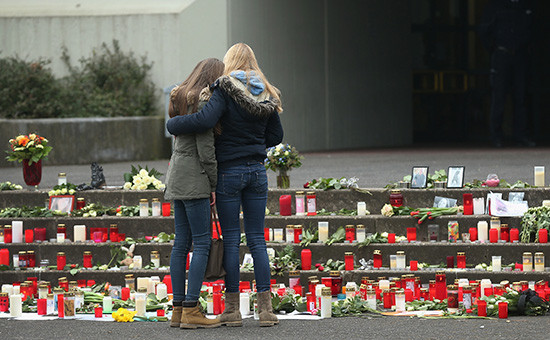 16 children and two teachers from the school in the German city of Haltern were on board the A320 that crashed March 24, 2015 in French Alps. They all died
Photo: Fotobank / Getty Images
According to the prosecutor Brice Robin, co-pilot of the Airbus-owned German airline Germanwings "knowingly" sent the plane into a dive and at the time of impact with the ground was alive, reports The Guardian. "The intention was to destroy the aircraft," – he said. Information about the last 30 minutes of the flight was obtained by decoding data "black box" containing the voice data.
The prosecutor said that, when the commander of the crew got out of the cab on the "call of nature", the co-pilot took control and directed the plane down. According to Robin, signs of panic in the cabin there was no co-pilot was breathing normally, but did not say anything before the collision with the ground.
The French prosecutor said that the co-pilot's name is Andreas Lubits and he is a citizen of Germany. He was 28 years old, says The Wall Street Journal. He is a native of the city Montebaur in Rhineland-Palatinate. Reuters notes that the raid had Lubits total of 630 hours, in contrast to the main pilot, whose plaque was 6000 hours.
According to Bild, the captain name is Patrick S., he was born in Düsseldorf.
In the last 10 minutes before the fall of the commander constantly called co-pilot through the door, which he locked from the inside. The prosecutor declined to name the action Lubitsa suicide, and said that he "was not known as a terrorist." He noted that while there are no data indicating that the crash was a terrorist attack. "I can not call it a suicide, although legitimate to ask such a question," – said Robin.
From the records obtained by decoding the "black box", it follows that 20 minutes before the start of an emergency, both courtesy of the pilot talking with each other. "We could hear the cries of a few minutes before the plane crashed," – said Robin.
Despite numerous attempts to contact managers from Marseille with the plane, no they did not answer, the prosecutor concluded.
Transport Minister Alexander Dobrindt Germany stated that the claim of the French prosecutor that the co-pilot deliberately crashed the plane, is plausible, according to Reuters. He noted that this opinion is shared by German experts. "According to available data, we assume that the commander actively prevented access to the cockpit," – said Dobrindt.
Airbus A320 aircraft crashed Germanwings German loukostera March 24 in the French Alps. On board the ship, en route flight Barcelona – Dusseldorf on board were 144 passengers and six crew members. After 30-40 minutes after taking off liner, barely reaching cruising altitude, began to decline. After that controllers lost contact with the plane. The wreckage of the liner were discovered in the valley at a height of about 2 km above sea level in the department of Alpes de Haute Provence.